Protectuff™ ML44 Multi-Layer Protection Film

ProtecTuff™ML44 Protection Film
Surface Protection Film – Multi-layer Scratch and Abrasion Resistant Film
PRODUCT APPLICATION:
ProtecTuff™ ML44 film is designed to provide protection to touch panels, kiosks and display in high use and abusive environments. The multi-layer design allows for easy and fast renewal of a damaged surface. This product is designed for flat, non-porous substrates that are clean, free of dirt or debris.
FEATURES
Multi-layers (4 layers) of scratch, abrasion and chemical resistant film with high clarity adhesive backing
Multi-layer construction allows a single installation with multiple surface renewals
Thick 100 micron (4-mil) PET film reduces chances that damage from top layer will damage lower films
Each layer has a highly scratch and chemical resistant layer precision coated onto its surface to extend the life of the product
High clarity construction does not interfere with view through windows or underlying displays
Easy removal of damaged layers to expose fresh 'renewed' surface.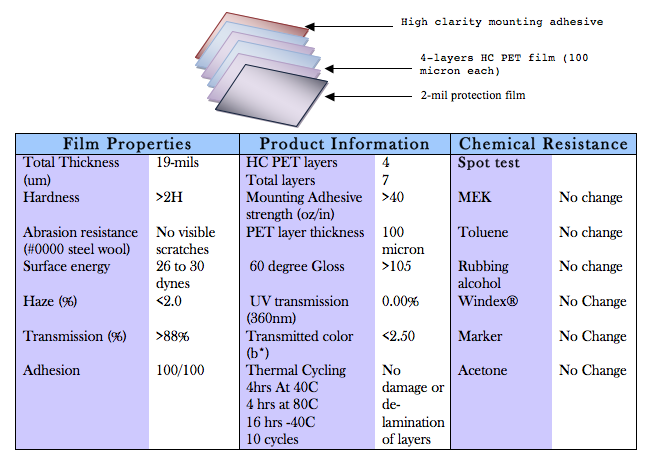 PRODUCT FORMATS AVAILABLE
PET Gauges available: 100 micron standard PET thickness. Custom PET thickness available
Product format: Sheeted film or rolls
Made in the USA