KoaTech KPF Series PET Protection films
Surface Protection Films
PRODUCT APPLICATION:
Vampire Optical Coatings, Inc is proud to be KoaTech Technology Corporation's US representative for their PET protection film products. KoaTech KPF series protection films are designed for generic surface protection of products during transport and retail of the electronic products. This product is designed for flat, non-porous substrates that are clean, free of dirt or debris.
ABS film FEATURES
Easy fast application
Low tack strength allows easy removal
No adhesive transfer to surfaces
Cost effective
Quality protection film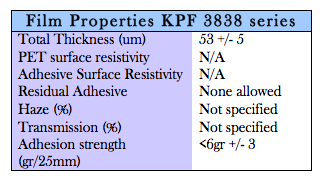 Made in Taiwan